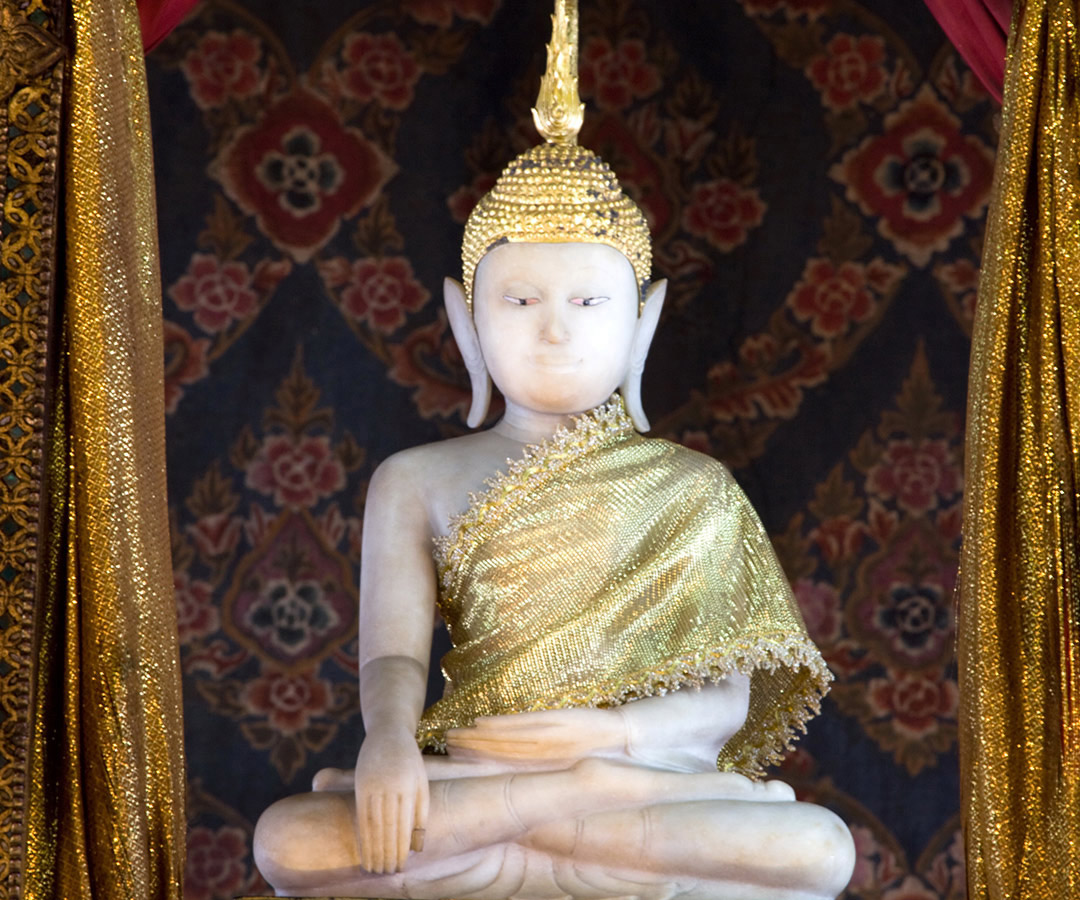 Phra Phutta Thewawirat (Luang Por Khao): the white Buddha image was carved out of pure white stone. Sitting on lotus throne, Luang Por Khao sits crossed-leg in diamond (lotus) meditation post, both legs interlocking, with his right hand on his lap in subduing the Mara post. The measurement of Luang Por Khao is 15 inches in width and 19 inches in height with round face and removable flame-like halo. There are no records, regarding the time of carving or the name of the Buddha image, beside official record of King Rama III brought the Buddha image from the royal palace and placed him as the principle Buddha image of the temple. King Bhumibol Adulyadej visited the temple and named the image, Phra Phutta Thewawirat on June 26, 1971.
Standing Buddha images in full regalia: Two standing Buddha images are presented in front of Luang Por Khao. Both of them held both of their hands up front in the posture of Pang Hamsamut, calming the ocean post. Smiling calmly, the Buddha images were made with early Rattanakosin style. Standing on top of lotus shape platform with royal 5-tiered umbrella, the full regalia Buddha images are said to represent Krom Muen Absonsudathep (Princess Wilat).
Vechyanbusabok (the re-creation of Indra throne): The pavilion houses Phra Phutta Thewawirat. The pavilion itself was made, combining Thai wood carving and plastering technique of early Rattanakosin period, which emphasize on delicate skill work. The Vechyanbusabok was intended to recreate the Throne of Indra, according to Sutta Pitaka (scriptures in Theravada Buddhism). The pavilion was decorated with Deva and Garuda sculpture, which were made of tin and covered with gold leaves. Krajok Kriab (Thai panel glass) were meticulously garnished the pavilion. On both side, royal 5-tiered umbrellas can be seen. There are speculation that two royal 5-tiered are symbol of Princess Wilat, whom was the patron of this temple. Vechyanbusabok and five tiered umbrellas are symbols of Wat Thepthidaram and have been used by Thepthidaram Foundation as its crest.
Stone statue of Thai woman: Along with other Chinese statues, such as Chinese lion and Chinese woman, Thai women statues can be found surrounding the Ubosot. These statues were carved with great details by the order of King Rama III. Each statue is in unique post and dress, depicting the woman of early Rattankosin period. Examples of these Thai statues are mother with her children and lady from the palace statue. The living of Thais in early Rattanakosin period is shown in each Thai woman statues adorning the temple ground.